Trinity Court
12 Pittodrie Place, Aberdeen AB24 5QP
View in a map
SOLD OUT
View in a map
About Halls
Trinity Court Aberdeen is the perfect student accommodation in the heart of Aberdeen, just minutes from the
University of Aberdeen
and the Robert Gordon Garthdee Campus.
Trinity Court Student Accommodation, the largest residential complex in Aberdeen, offers a variety of fantastic living options. Trinity Court has a range of flats including 2, 3 and 4 bedroom flats, with the 2 bedroom flats also having a study area. Trinity Court accommodation has a beautiful courtyard surrounded by the hustle and bustle of the city's student centre, making it a prime location for all Aberdeen students.
The 3-bed flats at Trinity Court Aberdeen are located on the ground floor and offer spacious, modern and bright rooms measuring approximately 10.3 m2. Each room is equipped with a single bed with plenty of storage space under the bed, a mirrored wardrobe, shelves and a desk with drawers. The large windows in the rooms let in plenty of daylight and create a pleasant and inviting atmosphere.
The flats also include a spacious bathroom with WC, large bathtub with overhead shower, washbasin and accessories. In addition, there is a large living area with table, chairs and sofa, as well as a modern, fully equipped kitchen with a dishwasher. An added bonus is that each flat has its own washing machine and dryer, so you do not have to queue or pay for laundry service. It's a perfect social space to spend time with your flatmates and friends, making it truly a home away from home.
Trinity Court student accommodation is ideally located just a 5-minute walk from Aberdeen University and a 10-minute walk from the university. The main bus route is just around the corner, giving you easy access to
Robert Gordon University
, the city centre and much more. With a fantastic city centre location, Trinity Court Aberdeen is right next to a Tesco Express, so you'll never run out of snacks and can grab some late at night.
Come and join our vibrant community at Trinity Court Accommodation where we offer an exceptional student living experience in Aberdeen.
Aberdeen
is the third largest city in Scotland with a population of over 200,000. Aberdeen became famous for its grey granite buildings. These were built all over the city. Aberdeen Beach is a wonderful place to be with the family by the sea. There are also amusement arcades and cafés nearby in case the weather does not cooperate.
Offers
Early Bird Offer - Receive £160 Cashback. T&C's Apply*
Refer A Friend And Get £100 Each. T&C's Apply*
Property Amenities
Wifi
Bike Storage
Car Parking
CCTV
Common Room
Secure Door Entry
Laundry
En-suite
On Site Maintenance
Outdoor area
Cinema
All Bills Included
Content Insurance
In-house housekeeping
Parcel receipt
Outdoor Courtyard
Games room
Walk to uni
On-site Team
Social Events
24 hour support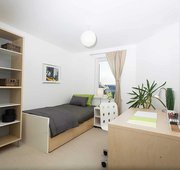 Standard - 3 Bed Flat
These 3 bed flats are situated on the ground floor of our accommodation. These bright, modern, large (10.3m2 approx) rooms come with a single bed which has fantastic under bed storage. Each room comes with a mirrored wardrobe, shelving unit, desk with drawers and has large windows which brings in a lot of natural light. Each flat comes with a spacious bathroom complete with WC, large bath with overhead shower, sink and accessories. There is also great living area with table, chairs, sofa and a sleek, modern fully fitted kitchen, including a full size dishwasher plus it has the advantage of having its own washing machine/dryer so you don't have to queue or pay for your laundry anymore. This is a great social space to hang out with your flatmates and friends, a real home from home! Average bedroom size: 10.3 m² Living space per student: 18 m²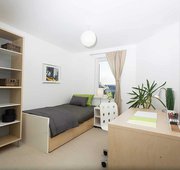 Premium - 3 Bed Flat
These 3 bed flats are situated on the 1st, 2nd and 3rd floors of our accommodation. These bright, modern, large (10.3m2 approx) rooms come with a ¾ double bed which has fantastic under bed storage. Each room comes with a mirrored wardrobe, shelving unit, desk with drawers and has large windows which brings in a lot of natural light. Each flat comes with a spacious bathroom complete with WC, large bath with overhead shower, sink and accessories. There is also great living area with table, chairs, sofa and a sleek, modern fully fitted kitchen, including a full size dishwasher plus it has the advantage of having its own washing machine/dryer so you don't have to queue or pay for your laundry anymore. This is a great social space to hang out with your flatmates and friends, a real home from home! Average bedroom size: 10.4 m² Living space per student: 18.7 m²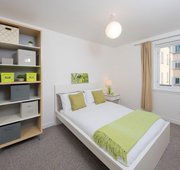 Standard – 2 Bed With Study
This 2 bed study flat has 2 standard rooms with ¾ double beds with fantastic under bed storage. Each room comes with a mirrored wardrobe, shelving unit, desk with drawers and has large windows which bring in a lot of natural light. it also has a shared spacious bathroom with a WC, large bath with overhead shower, sink and accessories. The living room/kitchen area contains a table, chairs, sofas, fully fitted modern kitchen, including a full size dishwasher plus it has the advantage of having its own washing machine/dryer so you don't have to queue or pay for laundry anymore. This is a great social space to hang out with flatmates and friends, a real home from home! There is a dedicated study room complete with two large desks, chairs and accessories. A perfect flat set up where you can separate your studies and social time. You don't want to miss out on this flat!! Average bedroom size: 10.3 m² Living space per student: 27 m²
Premium – 2 Bed Maisonette With Study
This 2 Bed Maisonette With Study has a front door entrance and is located over two floors. On the upper floor you two large bright bedrooms with ¾ double beds with fantastic under bed storage. Each room comes with a mirrored wardrobe, shelving unit, desk with drawers and has large windows which bring in a lot of natural light. it also has a shared spacious bathroom with a WC, large bath with overhead shower, sink and accessories. On the ground floor of the flat there is a living room/kitchen area where there is a table, chairs, sofas, fully fitted modern kitchen, including a full size dishwasher plus it has the advantage of having its own washing machine/dryer so you don't have to queue or pay for laundry anymore. This is a great social space to hang out with flatmates and friends, a real home from home! The ground floor also benefits from a WC with sink and then there is the dedicated study room complete with two large desks, chairs and accessories. A perfect flat set up where you can separate your studies and social time. You don't want to miss out on this flat!! Average bedroom size: 8.4 m² Living space per student: 19.1 m²