403 King Street
403 King Street, Aberdeen AB24 3BZ
View in a map
SOLD OUT
View in a map
About Halls
403 King Street can be the perfect home for students, with its modern and minimalist accommodation offering the perfect stay any student could wish for. 403 King Street Aberdeen offers student accommodation to students from surrounding universities. The 403 King Street student accommodation offers a range of amenities including, on-site laundry service, free Wi-Fi and comfortable rooms.
The 403 King Street Aberdeen offers spacious and minimalist, yet generous student living spaces. Each room in 403 King street student accommodation is equipped with adequate storage units like a wardrobe and shelves and has large windows that allows proper ventilation in the room. Each flat has a spacious bathroom with WC, a large bathtub with overhead shower, sink and accessories. Also, there is a sizable living area with a couch, table, and chairs as well as a sleek, contemporary kitchen that is completely functional and has a full-size dishwasher which offers the benefit of having its own washer and dryer, saving the students from having to wait in line or pay for their laundry. A true home away from home, this is a terrific place to hang out with your roommates and friends.
There are management and maintenance personnel on-site, 24-hour video surveillance, and secure bike parking at 403 King Street Aberdeen. A lovely courtyard where tenants may benefit from the free on-site maintenance, a communal area with an outdoor area where students can hang out and watch their favourite shows and movies with their friends.
Also, the reception room at the student residence at 403 King Street has study areas that accommodate both solitary and group study. These places are also perfect for when students want some time to themselves.
403 King Street Accommodation features all the luxuries and conveniences needed to make a student's stay enjoyable and memorable. Students won't be bored at the 403 King Street student accommodation due to all the entertainment nearby.
The address 403 King Street Aberdeen is in the heart of Aberdeen. Its occupants can autonomously and with ease tour different parts of the city.
Robert Gordon University
is only 30 minutes' walk and King's College and the
University of Aberdeen
, both of which are about 11 minutes away. Students staying at the 403 King Street student housing are in a perfect place to learn about the history of the city and the nuances of its long-forgotten past. The distance to the Aberdeen Maritime Museum is only 7 minutes.
Aberdeen
consistently ranks as one of the safest cities in the UK and the safest city in Scotland, so the safety-conscious student can be carefree while residing in this beautiful city.
Offers
Early Bird Offer - Receive £160 Cashback. T&C's Apply*
Refer A Friend And Get £100 Each. T&C's Apply*
Property Amenities
Wifi
Bike Storage
Car Parking
CCTV
Common Room
Secure Door Entry
Laundry
En-suite
Vacuum Cleaner
Iron/Ironing Board
On Site Maintenance
Outdoor area
All Bills Included
Bus Links
Train Links
Content Insurance
Outdoor Courtyard
Cleaning Service Included
Social Events
24 hour support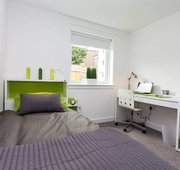 Premium Plus – Large 4 Bed Flats
These, bright, modern, large (11.4m2) rooms come with a ¾ double bed which has fantastic, under bed storage. Each room comes with a mirrored wardrobe, shelving unit, desk with drawers and has large windows which brings in a lot of natural light. Each flat comes with a spacious bathroom complete with WC, large bath with overhead shower, sink and accessories. There is also great living area with table, chairs, sofa and a sleek, modern fully fitted kitchen, including a full size dishwasher plus it has the advantage of having its own washing machine/dryer so you don't have to queue or pay for your laundry anymore. This is a great social space to hang out with your flatmates and friends, a real home from home! Available on the ground, 1st, 2nd, 3rd and 4th floors. Average bedroom size: 11.4 m² Living space per student: 20.4 m²
See 2 More Bookings OptionsShow Less
Premium Plus – Large 3 Bed Flats
These, bright, modern, large (11.4m2) rooms come with a ¾ double bed which has fantastic, under bed storage. Each room comes with a mirrored wardrobe, shelving unit, desk with drawers and has large windows which brings in a lot of natural light. Each flat comes with a spacious bathroom complete with WC, large bath with overhead shower, sink and accessories. There is also great living area with table, chairs, sofa and a sleek, modern fully fitted kitchen, including a full size dishwasher plus it has the advantage of having its own washing machine/dryer so you don't have to queue or pay for your laundry anymore. This is a great social space to hang out with your flatmates and friends, a real home from home! Available on the ground, 1st, 2nd, 3rd and 4th floors. Average bedroom size: 11.4 m² Living space per student: 20.4 m²
See 2 More Bookings OptionsShow Less