Highfield Park
Highfield Park, 274 North Circular Road, Dublin Dublin 7
View in a map
SOLD OUT
View in a map
About Halls
Highfield Park student accommodation is a stylish, modern and well-thought-out student accommodation based in a lively part of Dublin. It is situated at a three-minute walk from the Technological University Dublin's Grangegorman campus and a comfortable walking distance from Trinity College. This means that the students can get to and from their place of education with ease, saving them both time and money. Since the area is a dynamic, youthful one, you will find several places for entertainment and socialising. What this translates into for the students is that they have several places to go and enjoy themselves and also find part-time work in. Everything from grocery stores, cafes, theatres and shopping districts are located close to Highfield Park accommodation, making it an excellent place to stay.

Additionally, Highfield Park is made up of thoughtfully designed ensuites, all of which offer a different set of facilities. Here, you will find Standard, Classic, Townhouse, Premium, Deluxe and Gatehouse Ensuites, all of which have been designed tastefully, keeping modern design and student lifestyle in mind. The rooms are packed with features like spacious sleeping areas, study areas complete with study chairs and desks, large attached bathrooms and ample storage space to put all your belongings. You also get fully-equipped kitchenettes with the rooms, offering you the opportunity to prepare fresh and healthy meals as and when you want to.

The different features offered by Highfield Park include high-speed WiFi connection across the property, CCTV coverage so that you can enjoy physical safety and peace of mind, an on-site laundry to do your washing as and when you want and an on-site gym to keep up with your physical exercise routine. Highfield Park also has proper bike storage for all your rental or personal bikes. Since bikes are the preferred mode of transportation for many students living in Dublin, this is an especially useful thing to have.
Property Amenities
Wifi
Bike Storage
CCTV
Laundry
En-suite
Gym
On Site Maintenance
All Bills Included
Parcel receipt
Social Events
24 hour support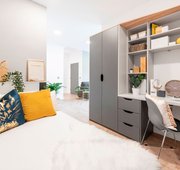 Classic Twin
Got a friend you'd like to share a room with? Twin rooms offer you the chance to share your experience whilst still having enough space of your own. Each room is fully furnished with two small double beds and an en-suite bathroom to share. The rooms are located within a 6 or 7 bedroom flat, with a shared kitchen and living area.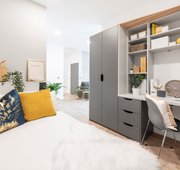 Twin Bed Studio
Share a large studio with a friend and have two separate open-plan sleeping areas, each with a small double bed. You'll share a bathroom and a kitchenette so you have the perfect balance of privacy and good company.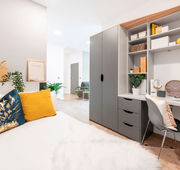 Standard En Suite
Sizes of this room type vary between 10.4 - 12.3m2 but they all benefit from loads of storage space, a small double bed and well-equipped shared lounge/kitchens.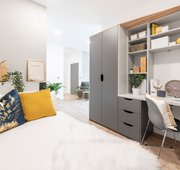 Classic En Suite
Choose a spacious classic room in a flat and share a modern kitchen/living area. These rooms come fully furnished with a ¾ bed, plenty of storage and your own en-suite bathroom. Be quick, these rooms will sell out fast! Rooms vary between 12 - 14.6m2.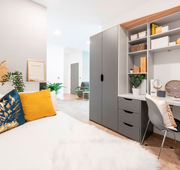 Classic Plus En Suite
If you're looking for even more space, Classic Plus rooms come with the same features as the Classic but with even more floor space or with better views from the top floor! Rooms vary between 14 - 15.8m2.
Townhouse Standard En Suite
These rooms are identical to our other townhouse rooms, but come complete with their own ensuite bathrooms for even more space and privacy! Rooms are between 10.4 - 10.9m2.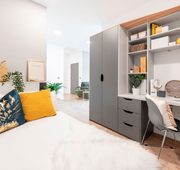 Premium En Suite
Our Premium rooms are fully furnished with the same features as the Classic Plus, but with even more space to play with, as well as a larger en-suite bathroom. These rooms are also available on the higher floors with great views. A great room if you want that extra personal space! Rooms vary between 16 - 17.9m2.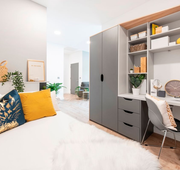 Townhouse Classic En Suite
Slightly more plush than our other townhouse rooms and with a little more space, these rooms come complete with the same high-spec design and their own ensuite bathrooms. Nice! Rooms vary from 12.3 - 14.4m2.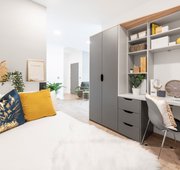 Premium Plus En Suite
Located on the higher floors, Premium Plus rooms offer the best views of Dublin. Each room is fully furnished to include all the same modern features of the Premium room but these are a handful of the some of the best rooms in the building. Rooms vary from 18 - 20m2.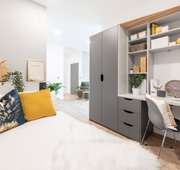 Deluxe En Suite
A larger room will make you the envy of all your friends. With limited availability, snap one of these rare gems up quick! Rooms are around 21m2.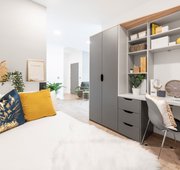 Classic Studio
The classic studios come with a double bed, lots of storage space and room to fit a few friends in - this could be just the studio for you. With your own kitchenette and dining station, you'll have everything you could need from the comfort of your bedroom! Rooms vary from 20 - 24m2.
Premium Studio
Live the high life. You'll have a huge self-contained studio apartment with everything you could need! Containing all the same features as the other studios, from your own high spec en suite bathroom to a kitchenette and dining station, you'll just have even more space to stretch your legs! Room size varies from 24 - 32m2.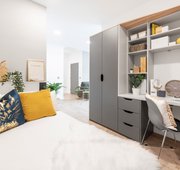 Gatehouse Standard Room
Live with one other friend in the spectacular gatehouse at the front of the accommodation. These rooms have loads of space including a shared kitchen and living area so there's plenty of space for all your stuff. Your flatmate will have their own en-suite meaning the shared bathroom will usually be free for your use!