Manchester House
Cavendish Street, Manchester M15 6BQ
View in a map
SOLD OUT
View in a map
About Halls
Manchester House student accommodation is a modern, stylish and safe place for students who are planning to study in Manchester. The accommodation has been strategically placed to sit only a stone's throw away from the Manchester Metropolitan University and the Manchester School of Architecture. This means that you can simply walk to your campus in the morning from Manchester House. Additionally, two local train stations; Manchester Oxford Road and Deansgate, are also located within comfortable walking distance.

This means that you can reach your university or college in Manchester with ease, no matter where it is. Since the Manchester Town Centre is also not very far away, you will realise that its proximity lends its liveliness to the area as well. This makes finding part-time jobs easier along with putting many places of entertainment, socialising, utilities and stores within easy reach of the students living in Manchester House.

Manchester House accommodation is defined by well-furnished and well-maintained en-suite rooms which are designed to take care of all the everyday needs of the students. Each room has been meticulously set up to include everything from a clean bathroom and toilet, comfortable beds, designated study areas with desks and chairs and loads of storage space for clothes, books, shoes and more.

The different facilities offered by Manchester House include high-speed WiFi and broadband connection to keep you connected across the property. This becomes especially useful during group study or when streaming your favourite shows with friends. The physical safety and psychological security of the resident students are given special consideration by installing CCTVs, secure door entry and on-site security at the accommodation. You will also find an on-site laundry to do your washing when it suits you and comfortable common rooms to lounge and unwind with friends after a long day of work or study.
Property Amenities
Wifi
Broadband
CCTV
Onsite Security
Secure Door Entry
Laundry
En-suite
Kitchen
On Site Maintenance
Heating
All Bills Included
Bus Links
Train Links
Airport Links
Walk to uni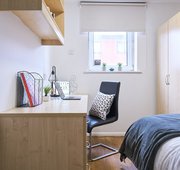 Classic En-suite
Spacious bedroom with a ¾ double bed, En-suite bathroom, study area and wardrobe. The shared area includes a lounge and kitchen area with TV and up to 100Mbps WIFI throughout.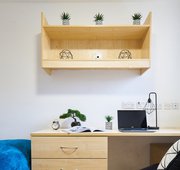 Premium En-suite
Larger bedroom with a ¾ double bed, study area and wardrobe. The shared area includes a lounge and kitchen area with TV and up to 100Mbps WIFI throughout.